Post by ▲ Fabrication on Dec 3, 2019 14:48:23 GMT -5


Oleander
Loner

General Information

Name »
Oleander.
- Former name(s):
None.
Gender Identity »
Cisgender.
- Pronouns:
He/him.
Sexuality »
Pansexual.
Age »
Sixty-one moons.
- Birth date:
Unknown.
Clan »
None.
- Previous Clan:
None.
Beliefs »
A deity of some kind, he sometimes refers to it as "the Creator".
Rank »
None.
- Previous Rank(s):
None.
Appearance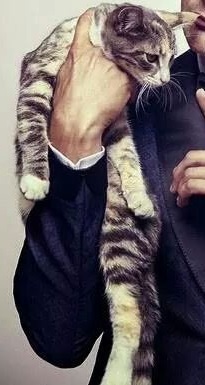 The first and most surprising feature many notice about Oleander is the fact that he has a torbie coat, unusual for a tom-cat. His pelt is striped with beautiful tabby patterns, rippling along his body like a tiger. His fur is split into random cream and grey splotches, with two unique cream spots on his left ear. Oleander has long, curly white whiskers, kept clean and neat with meticulous care. He has a narrow, pointed muzzle that often splits into a warm, welcoming smile. His chin is white, as though he had bent and rested his head for a moment in a snowdrift. Oleander has collected a series of scars over his lifetime, most of which have healed wonderfully. A few half-hearted scratches score his belly, along with a small scar scoring across his little pink nose. His coat is short, and soft to the touch. Like everything with Oleander, he keeps himself extremely tidy. He has a long, elegant tail that swishes quickly when he is excited. His paws are pure white, like little socked feet. He only unsheathes his claws when he means to use them, they are otherwise concealed in his toes. Even in anger or frustration, his claws remain sheathed. Oleander has long, graceful legs that look deceivingly nimble. In truth, great strength lies beneath his pelt, and he is capable of leaping great heights or fighting powerful opponents if needs be. He has large, pointed ears that add to his relaxed gentlemanly demeanour. His eyes are a friendly copper brown, with hints of green around the iris. He doesn't look much like a fighter, and gives off the impression that he'd rather talk himself out of conflict than get into any real sort of fight. He has an incredible sense of smell, even for a cat, and is sensitive to the moods and scents of other felines.
Summary »
A grey and cream tabby tom with dark amber eyes.
Eye colour »
Brown.
Pelt colour »
Grey, cream and white.
Pelt markings »
Tabby, calico.
Build »
Lean, but unassuming.
Scars »
Several unspecified scars.
Disabilities »
None.
Disorders »
Unknown.
Personality
Oleander is, in theory, a fine young gentleman. He holds himself in a way that makes you feel both respected and valued. He appears to listen, and genuinely listen, to what you have to say. He will apologise when he has offended you, and goes about his business with proper etiquette and manners. Beyond this polite, respectful demeanour lies a layer of ruthlessness that you wouldn't want to ever tease out of him. If Oleander wishes harm upon you, no force on heaven or earth will be capable of staving off his paw. He will stop at nothing to bring your life to an end if anything about you in any way displeases him. The more you offend him, the more suffering he will gladly inflict upon you. Oleander is very self-confident, with a high opinion of his own abilities and accomplishments. In this way, he can over-estimate himself and land himself in situations that spiral quickly beyond his control.
He delights in the fact that few cats realise his true appetite, and toys with the idea of revealing this nature to cats through playful and witty banter. This risk-taking behaviour has incidentally revealed his true intentions to other cats, and there have been a few instances where he has had to flee a particular area due to his predatory habits being exposed. He is offended by any sort of rude or impolite gesture or manner of speech, and if you slip below his standards he will regard you as lesser and there is little you can do to change his mind. Any cat that is "lesser" is no better to him than the average rat or mouse, and he treats them as such. This attitude isolates him and means that he has few allies. He operates almost entirely alone, and finds it difficult to maintain relationships with others while also keeping his comings and goings completely private. He is an intelligent tom, with a background of knowledge that he gleaned off his caretaker and teacher, Maikoa. She took up the young Oleander's education following the deaths of his parents, who came from a line of refined cats who considered themselves of higher upbringing than the average wandering rogue or loner. He is quick to judge the character of others, and many of his assumptions are based on brief encounters with other cats. If you happened to be having a rather bad day when you cross his path, it is likely he will base his entire perception of your character off that one chance meeting.
Oleander likes to have control over every situation and cat in his life. He amuses himself by manipulating cats to see what they would do in given situations. His curiosity often leads him into unusual situations with others. Despite his complete lack of empathy, Oleander finds his hidden nature a deeply lonely existence. He seeks company with other cats, but has rarely encountered other cats like himself. He is intrigued by the killer's mentality, and the moment he discovers another feline harbouring any sort of homicidal history or desires he clings to them like a burr. Sometimes, he even encourages or assists with these fantasies, helping cats to exact revenge on those who have harmed them or random violence upon cats they barely knew. It excites him, to have so much control over another life, but he is often bored by the predictability of these other cats and longs for a more spontaneous game where he has no idea what his opponent might do. This boredom may lead him to take drastic measures to relieve it, and often Oleander finds himself pushing another cat too far and turning a friend into an enemy.
Oleander is a sensible cat, he has never taken too great a risk when it comes to choosing his prey or playing any sort of cat-and-mouse game. He never gives away too much or too little, and he is very, very careful. Often, he will drug a cat with poppy seeds before attempting to attack them if he believes they might be able to overpower him or escape. He is quite good at convincing others to do things. Everything he says sounds reasonable, even the most outlandish and frightening claims. Everything in nature kills, why shouldn't they? What makes the life of a cat so much more valuable than the life of a blue tit, whose song sounds so much more beautiful?
Positive traits »
Sensible, self-confident, calm, quick-thinking, polite, observant, creative, clever,.
Neutral traits »
Fearless, motivational, protective, instinctive, quick to judge, passionate.
Negative traits »
Ruthless, possessive, controlling, sadistic, violent, remorseless, manipulative, destructive, easily-offended, impulsive.
Family
Family tree »
None yet.
Father »
Indigo
Mother »
Floret
Brother »
None.
Sister »
Belladonna.
Relationships
Mentor »
Maikoa / Bio
Apprentice »
None.
Mate »
None.
Romantic partner »
None.
Crush »
None.
History
t.w
Cannibalism, violence, etc. etc.
Oleander came from a well-bred background. His parents, Indigo and Floret, were members of an upstanding group of loners that didn't exactly live as one unit, but shared territories and hunting grounds. They exchanged pleasantries with eachother, and the most charitable members of the community would always offer assistance if a queen was struggling to feed her kits or if an elderly cat lost the ability to hunt. There was a pleasant atmosphere among these loners, an amiable nature that wasn't often seen among wild cats. Winters brought harsher attitudes and more jealously guarded food, but asides from that, they were a community. Indigo was a handsome dark black tom, highly respected among the other cats. He was known as an exceptional fighter, willing to fend off any threat or foe. Floret was a delicate feline, a calico with a calico's heart, as they always said. She fell for Indigo not long after meeting him, and whispers spread scandalous rumours of Floret and Indigo beginning to share not only hunting grounds but a den as well.
Floret and Indigo became the parents of two fine kittens, whom they named Belladonna and Oleander. Both kittens were, as many kittens born in this area tended to be, wonderfully polite children. They were raised to respect the elders for their experience, and to only fight if there was little food to go around or if their own lives were indeed threatened. Floret was eager to tell the kittens all she knew, and most of what she knew were different varieties of plants and some vague herbal usages of basic medicines. She wasn't as educated as a Clan medicine cat would be, but she knew more than the average loner, and Oleander drank up this knowledge with glee. He was fascinated by flowers and proud that he had been named after one. He constantly pestered his mother with questions about this plant or that plant, and sometimes even she didn't have the answers he sought. Belladonna was surprisingly not a littermate of Oleander's. She had been born two moons after he, when he was the only survivor of a litter of three. She was his beautiful little sister, and he was as proud of her as he was of any flower that blossomed within their parent's loosely guarded territory. The fact that it was
loosely
guarded proved to be a failing on their parents part...
A group of wandering rogues, pirates by cat standards, happened upon the happy family. Wanting the rich hunting grounds for themselves, they attacked Indigo and Floret while they slept. Oleander and Belladonna hid, terrified, in the back of the den while their parents were entirely overpowered by the strangers. Indigo was the first to die, the rogues were afraid of his strength in battle and bit open his throat while he was asleep. Both Oleander and Belladonna were too young, too frightened and too small to stop the rogues in their violence. Floret died far more slowly and painfully than her mate had, for the rogues did not fear her. Having claimed the territory as theirs, the rogues debated whether they should kill the remaining kittens or not. But before any solid conclusion could be reached, the sound of screeching split the air, and four adult cats charged into the den. The battle was brief and violent. Outnumbered, the pirates were forced to flee their prized territory, furious that the night-time murders had yielded them no results. The rescuers turned out to be a she-cat that lived nearby, Maikoa, and her three fully grown sons. The toms were due to leave home quite soon, but their mother was glad they had waited, for she would not have been able to rescue the kittens on her own.
Maikoa acted as a messenger between distant families, travelling long distances to bring news across the valley. She took the kittens under her wing, but warned them that she would have to leave them for periods of time in order to visit not only her family, but the families of the other cats whose territories neighboured hers. She taught the traumatised kits how to hunt for themselves, something Oleander found impossibly difficult. Belladonna was an excellent hunter, and Oleander found himself envying her skill and stealth, something she had clearly inherited from their father. Maikoa warned them to stay hidden, and to never go out alone while she was gone. She left them with plenty of food whenever she had to leave, and always came home to find the kittens well-behaved and respecting her rules. As they got older, around seven moons old, Oleander still found that he couldn't hunt very well. It was one of the times where Maikoa left the pair to go about her errands, but she had been gone for much longer than usual. The stash of prey she had left behind had run out, and Belladonna declared that they would have to hunt for themselves. Oleander refused to accept that something might have happened to Maikoa, and insisted they should stick to the rules and remain inside the den. His younger sister didn't listen, and reassured him that she would be able to catch them something to eat.
Belladonna, however, was extremely ambitious with regards to her hunting efforts. When a squirrel was alerted to her presence, she attempted to hurtle up the tree after it, she climbed far too high, and slipped off the end of a branch. Breaking her neck as a result of the fall, Belladonna was instantly killed. Oleander dragged her back to the den, determined that if they just stayed there, they would be okay. Time went on, and Oleander, try as he might, was completely unable to catch a single morsel of food. Belladonna still hadn't magically sprung to life as he'd hoped she would. Each night, he curled up beside her, frightened by the fact that he felt no warmth from her body as he always had. Eventually, the tom had to force himself to accept that his sister was dead. Desperate and hungry, he began to resign himself to death, fearing Maikoa would never return. Delirious, and beginning to suffer the affects of starvation, Oleander made the most perspective-changing decision he had ever made, and one that would impact on him for the rest of his life. The young tom, in a last survival attempt, ate his sister.
By the time Maikoa returned, it was too late. Oleander felt pure hatred towards her when she came home to find him haggard but well-fed. It turned out that Maikoa had been imprisoned by an odd group of cats for a time, and she had only just managed to escape, but still he resented her for several moons. She mourned Belladonna's death alone, as he did. Though he never told her the full story of how he had avoided starvation, she likely had some idea. Maikoa spent few moons teaching Oleander the art of hunting. Still, he didn't possess his sister's talents, but the first time he managed to catch a mouse and taste that spurt of blood on his tongue, he knew that so long as he had a predator's instincts, he would be okay. Maikoa and Oleander slowly recovered from their ordeals, becoming as close as Maikoa was to her own sons.
One fine Green-leaf morning, Maikoa and Oleander were hunting in a distant corner of their shared territory, when Oleander heard a sound. A tom's voice, raised in bitter anger. Keeping low, he crept towards the sound, and discovered that an unknown loner was snarling abuse at Maikoa. He was vulgar, and had clearly fathered one of Maikoa's litter of kits, for her had certain words for her that hinted at just that. The tom made his blood boil, thinking of those disgusting rogues that had invaded his family home all those moons ago. Now a sleek, powerful adult, Oleander was no longer the kitten that sat by and watched such lowlife operate. Though the tom made no move to physically threaten Maikoa, Oleander sprang at him from the undergrowth and went straight for the back of his neck. Digging his fangs deep into the tom's spine until he heard a terrible crunch, Oleander let the cat slip silently to the ground with a great surge of satisfaction. It was just like killing a rat. Maikoa was horrified. She didn't understand why Oleander was looking at her without a glimmer of conscience in his eyes, and when she asked him why he had killed her former mate, the tom had shrugged and asked why it was any different from killing a bird or a mouse. That was the first. And he hasn't stopped since.
His intrigue for alternate cultures and travel has brought him to rest at the edge of the valley, where he has heard rumours of Clans of cats with a superiority complex reside. His curiosity for the Clans has slowly grown to disdain, and he often finds them to be extremely proud and rude cats. His boredom is growing once again, for even with a surplus of irritating cats to attempt to entertain himself with, his desire for something different grows each passing day.