Post by Deleted on Sept 8, 2018 11:11:23 GMT -5
Name:
Thrush
Age:
21 Moons
Gender:
Tom-cat
Clan:
None
Rank:
Loner
Picture: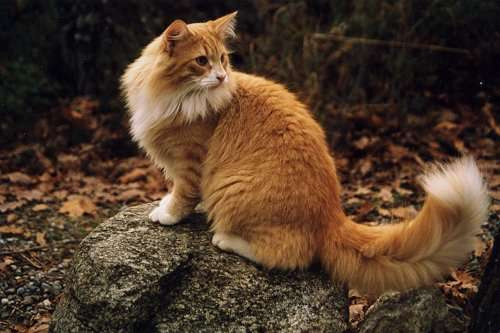 Description:
Thrush is a rather large cat, made to look even more so by his long, thick fur. The male adorns a tabbied coat, though, the markings are mostly only visible along his face and legs, with a broader, even if blurred, line down his spine. He carries a white chest and paws, with some white trickling to the tom-cat's belly, and a very lightly colored tail tip to match his lighter colored "mane". Atop his broad muzzle rest two, vividly green eyes.
The loner's build typically exudes youth and strength, being as he must be able to care for himself. However, genetics are in obvious play in this situation as well.
Description Summary:
A large, long-furred orange and white tabby tom-cat with sharp green eyes.
Personality:
Flirtatious;
As one would soon find out after meeting this bright tabby, Thrush can easily be known for his smooth words and inviting compliments. This way of behavior is second nature to him, and he is not above, or opposed, to wooing either gender. However, this male is strictly a ladies man, and does not do much aside from converse and gain needed information or resources from other males.
Charismatic;
To go along with Thrush's flirtatious nature is his charismatic ways. This is partially attained by the tabby's good looks, but mostly from his honest, even if filtered, tendencies. The loner will not promise anything he can't give, and if he's simply looking to give and get a good time, that's exactly what he'll try to real one in with. Yet, if a little work seems to be needed, that's just what the male will give.
Selfless;
One could say this large tom would lay down his life for another. And while that may be true to an extent, this is not without boundaries. Thrush will give the day's only meal to whomever may need it, but when it might come to life or death, he's more than likely to cut his losses and leave without a word if there's not much he can do.
Attachment Issues;
You'd think a cat like this flirt would be more than happy to form and keep as many relationships as would be allowed, but that's not really the case. His general personality and way of thinking often keep Thrush from going beyond a certain point when becoming attached to others. He's more of the physical type and not very attuned to his emotional side, skewing the tom-cat's image of what a relationship entails. And while he'll readily revisit an old fling, the feline won't go out of his way to make it happen.
Lazy/Laid Back;
Thrush, though willing to go out of his way at times, is often a "do less, gain more" kind of tom. If there's a short cut and he knows it, this tabby will be sure to find it, learn it, and then perfect it to the best of his ability. It comes in handy often times, but is certainly no cure-all for living and can cause just as many problems as it solves.
History:
Thrush was born as a third generation to a rather small family colony consisting of his grandmother, mother, an aunt, and whatever cousins or siblings had yet to leave on their own. The older females kept their lineage going by being friendly with wondering males, but never actually letting them stay for long. An aspect that aided in laying one of Thrush's fundamental ways of living.
His life as a kit was normal, and once about 9 moons old, the young tom-cat set off with two male cousins. They stayed together for some time, honing their skills of fighting, hunting, and gaining any sort of social standing where they wondered. Yet, as time went by, they eventually separated into their own lives and futures.
As of current, Thrush has recently found himself in yet another beautiful place. Though, he's anxiously aware that there are more cats among the land than the tom-cat is typically used to. This provides a challenge and a thrill for the large feline, and leaves him wanting to learn more of these others as well as to see if he can leave his mark for future generations.
Other:
Please, please, please feel free to drag him into a thread for whatever reason you want. As long as you give me a heads up first to make sure he's not occupied elsewhere on that same date and/or it's logical for him to have reached that location from his previous one within that amount of time, I'm literally cool with anything. Wanna fight? Let's go! Feeling frisky? You got it, babe. Just bored and could use something of a conversation? Sure thing, boss kitty.
And yes, Thrush wants to father everyone's kits, so be prepared.