Post by Deleted on Aug 19, 2018 11:31:38 GMT -5
Name:
Yarrowkit ||
Yarrowpaw
|| Yarrowtail
Age:
15 moons
Gender:
she-cat
Clan:
Rainclan
Rank:
Apprentice
Picture: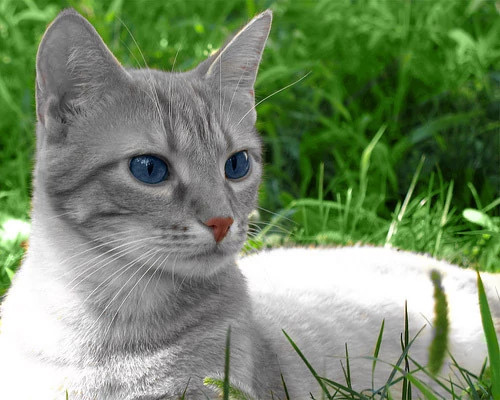 Description:
Yarrowpaw is a lanky and long-limbed female. Though she still carries many of her kitten like features, this young she-cat has begun to change into the awkward form common to half grown felines.
Her fur is a very light silver with soft tabby markings and a white underbelly, chest, chin, and lower legs. However, in the right lighting, Yarrowpaw's pelt may sometimes look like a frosty white with silver stripes that are most prominent on the female's face, tail, and what parts of her limbs that aren't strictly white.
Another feature of Yarrowpaw's are her blue eyes. Though some may consider them complimenting of her pelt, she herself dislikes them. The she-cat, though she's been told otherwise, hopes they are just remnants of her kithood and that they will soon fade into a more "attractive" color such as yellow.
Description Summary:
A lanky, average sized, silver and white female with short fur and blue eyes.
Personality:
Head-strong;
Despite being young and inexperienced, Yarrowpaw not only likes to be involved, but likes to be on top of every matter. This can make her quiet competitive at points, as well as draw her into squabbles when told she's wrong. However, this does not mean she is unrelenting, even if she commonly puts her paw in her mouth.
Kind;
Though Yarrowpaw may still have much to learn, she is kind at heart and hates to see others upset. She is not above making herself look silly to cheer a fellow clan member up, nor go out of her way to help someone in need. It's an attribute that needs honing, but one most cats likely won't mind.
Talkative;
With little surprise to others, this young she-cat can often be found jabbering on more than the morning songs of the chattiest of birds. One might even find Yarrowpaw occupied with talking to herself on a number of occasions. In her opinion, talking gets thoughts out where one can easily sort through them, as opposed to keeping them locked in the mind where they bounce about nonsensically.
History:
Kithood;
Having been born in the harsh cold of leaf-bare, Yarrowkit was lucky to be alive. She entered this world along with an unnamed sister who was much less fortunate. It seemed the lifeless kit had joined the ranks of Starclan shortly before they were to meet the outside world. Her mother, Lilystem, and father, Troutfur, grieved their loss. Although, it seemed Lilystem was the most effected, as this was her first litter, and never fully recovered.
Over the next moon, Yarrowkit's life was as simple as any. She grew and played, remaining within the warm confines of the nursery. Though, the silver tabby queen let herself fall absentminded often, leaving the young kit to entertain herself on most occasions. However, little did they all know that Lilystem would soon leave her little kit more alone than ever.
By two moons old, Yarrowkit had to learn of the concept of loss. Her mother had taken ill before the weather could warm and refused to fight to live. It wasn't long before the queen left one kit to be with another; a confusing day for Yarrowkit indeed.
Apprenticeship;
Yarrowpaw was more than excited to become an apprentice. She had quiet literally been waiting for this day all her life. She was happy to be put in the charge of -Mentor Name Here- and eagerly pledged to learn all she could from him/her.
Though little training has taken place, and it'll be many more moons before the she-cat receives her full name, the apprentice constantly dreams about the day she is called warrior.
Other:
Yarrowpaw's father is available for adoption to be played by whomever. She's a very open character as far as plotting goes, so please feel free to contact me about any sort of relationship you would like any of your characters to have with her.