Post by Deleted on Mar 17, 2020 18:07:52 GMT -5
Name:
Foxswipe
Age:
24 moons
Gender:
She-cat
Clan:
Lightningclan
Picture: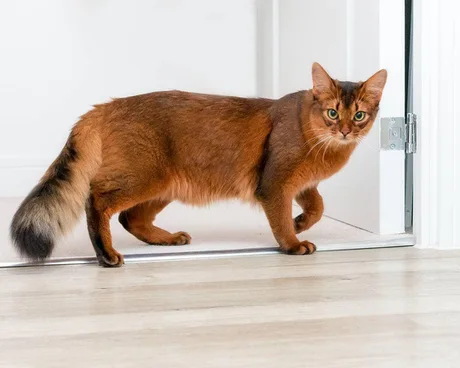 Description:
Foxswipe is characterized by her distinctly fox like appearance, both in looks and in build. Her coat color is a vibrant rusty red with a pale patch of fur that runs from her chin, down to her belly, and up to her tail tip. Her paws and ear tips are black in color and her pelt is long and thick which protects her against strong winds and the cold. She is on the smaller side with a lithe shape and long legs that aid her in her chase for prey. What she loses in size, she makes up for with her speed and agility.
Description Summary:
Small, russet colored she-cat with black paws
Personality:
Foxswipe is often misjudged by other cats for her small size and seemingly naive nature. Under her soft outward appearance lies a cunning mind and a sharp tongue that she uses to keep wayward cats in line. In battle she is as ferocious as any loyal clan cat and would fight until her very past breath defending her clan. Upon first glance she is reserved and distance, but once you grow to know her Foxswipe is as friendly as any cat, moreso to her clan mates, but she is cordial to cats from other clans unless they are crossing borders or stealing prey. When it comes to her warrior duties, Foxswipe becomes more serious and quite. She has great respect for the more senior warriors of her clan and strives to do great things just as they have. With apprentices she is gentle, but firm, always trying to set a good example of what's a loyal Lightningclan warrior is.
History:
Kit- Foxswipe was always more reserved as a kit in the nursery. She didn't often enjoy taking part in games with the other kits, preferring to watch from the safety of her mother's side. She would however join in when prompted by her mother or one of the more tenacious kits. She enjoyed spending time listening to tales from the elders and learning her clan's history and the great battles they once took part in. This, together with tales from her mother's time as a warrior, are what encouraged Foxswipe from the very beginning to strive to be a fierce and loyal warrior.
Apprentice- After being given her apprentice name and a mentor, Foxswipe became even more reserved and serious as she began her warrior training. She was often picked on for being smaller than the other apprentices, this enraged her and pushed her even harder to overcome her stature and be able to fight on par with larger warriors. Her mentor spent much time teaching her to use her size and speed to her advantage, this eventually led to her developing a formidable fighting style based on her agility.
Warrior- Foxswipe has not long been named a warrior and most of her time has been spent hunting and patrolling for her clan
RP Example:Other:
Foxswipe is an only kit, she was originally part of a litter of three, but her brother and sister died shortly after being born
Were You Referred?
Found on google