Post by Ginger on Mar 28, 2019 15:25:57 GMT -5
Name:
Wasp-paw || Waspstrike
Age:
9 Moons
Gender:
Tom
Clan:
RainClan
Rank:
Apprentice
Picture: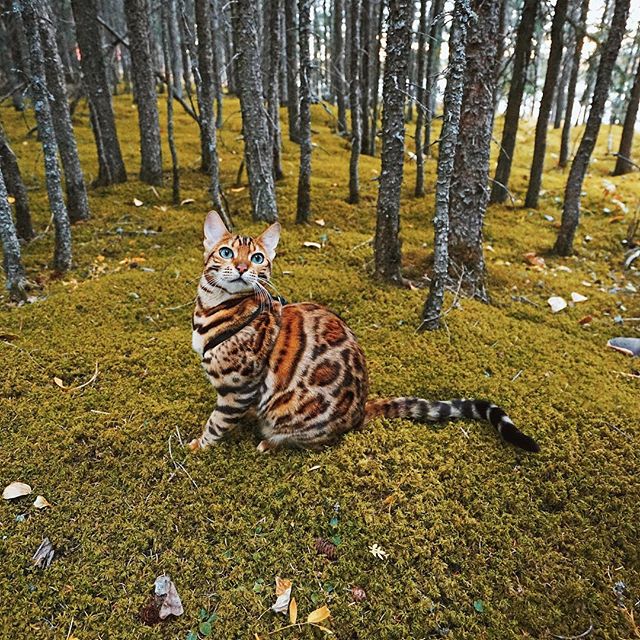 Description:
Wasp-paw is a wiry red-brown bengal cat with sleek fur. He has a somewhat small stature, but the confidence that he carries himself with helps to nullify it. Despite his large appetite, Wasp-paw has always been and will always be a very slender cat. Wasp-paw has a very good build for swimming. His tail is fairly long, helping him to maneuver in water, and his paws are large for his size. Wasp-paw's pale blue eyes are rather deceiving: they are large and soft, which normally would insinuate a cat of softer nature. However, cats are always surprised to find the sharp personality that lies beneath the soft eyes.
Description Summary:
A small and ruddy bengal tom with pale blue eyes.
Personality:
+ Energetic
+ Determined
+/- Stubborn
+/- Overconfident
- Impatient
- Likes to tease
Wasp-paw is an incredibly outgoing cat. He has always been one to start conversations, not caring too much for which cats those conversations are with. Others would describe himself as liking to hear himself talk. He likes to brag a lot, but his bragging is not without reason. Wasp-paw is a natural fighter, both in resolve and in physical combat.
However, sometimes Wasp-paw's boasting and confidence can be bad for him. He trusts in himself too much, but rarely trusts in the abilities of others, so he struggles to work in a team. If he can find a way to do a task alone, then he will take that path. However, once he starts down that path, Wasp-paw
will
reach his goal, no matter the cost.
A big issue that Wasp-paw struggles with is chronic boredom. He never quite feels satisfied, and on days when he finds himself doing nothing, he will try his best to make something happen, whether it be good or bad. Wasp-paw tends to taunt his enemies and poke fun at his clanmates (although sometimes that "poking fun" can turn into picking a fight). His terribly short fuse is not a particularly great match with this taunting nature, as it does not take much to get his claws itching for a fight.
Deep down, Wasp-paw does have a good heart. But do not be mistaken: it is not a kind one. He fights for his clan because he loves it fiercely, but he struggles to see the good in anyone beyond clan boundaries.
History


~~Kithood~~
Waspkit had a relatively normal life. His mother and father cared for him very much, and he had love all around him. He was given the name Waspkit because of his small stature and ruddy coloration. However, the name Waspkit eventually became more than just a description of his looks as his personality grew into the name Waspkit. His mother was often concerned about Waspkit's constant egging on of the other kits, worrying that his desire for a fight would only grow worse and eventually get him seriously hurt. She never thought to discipline him because she viewed him as a little angel. Waspkit, despite his desire to annoy the other cats, was always good to his mother as a kit (even though her constant affection annoyed him). Eventually, Waspkit grew too old to be in the nursery making jabs at newborns, so he was renamed Wasp-paw and given a poor mentor to deal with his shenanigans.
Other:
I think I'm going to make an NPC bio for his mother. I want to develop that twisted mother/son relationship.