Post by Silver on May 13, 2017 0:38:39 GMT -5
Name:
Larkfeather
Age:
25 Moons
Gender:
She-Cat
Clan:
Lightning
Rank:
Warrior
Picture: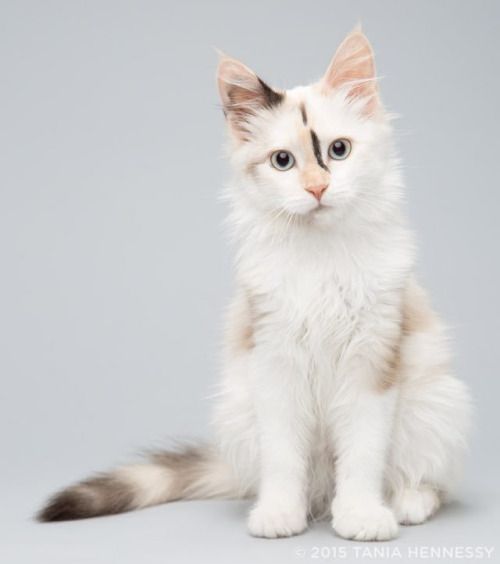 Description:
Larkfeather has soft, medium length fur that she keeps immaculately groomed. She is, for the most part, milky white in coloration, with a light pink nose and the palest of green eyes. A cream colored blaze breaks up the white on her face, extending to almost between her ears, with a sliver of very dark brown on the left edge. Her right ear and tail tip are also this very dark brown color. There are two slightly lighter brown rings on her tail, one very near the tip and one about half way down her tail. She has a couple sandy brown patches on her shoulders and back as well. She is smaller than the average cat, slim and dainty, and deceptively delicate looking. Her ears are slightly tufted.
Description Summary:
A dainty white she-cat with sandy brown patches and pale green eyes.
Personality:
Clever and cunning and always watching, Larkfeather is a cat that knows that she is beautiful and isn't afraid to use that to her advantage. The toms never see anything besides a pretty face, so why should she bother getting truly close to them? They'll hunt for her and fight over her; each trying to earn the favor of a she-cat that couldn't care less about any of them. Love is just a word used by foolish cats in order to get what they wanted, it wasn't real. It couldn't be, or her parents would have loved her like they had loved her siblings. And yet...there was a hidden corner of her heart that longed for someone to see passed all her barriers and see the lonely she-cat hidden behind all her flirting and games of pretend.
That doesn't mean she's all sunshine and rainbows though. She isn't a strong hunter but she can if she needs to. She has learned that manipulating others is often to her benefit and she doesn't feel badly for the hearts she's broken along the way. She enjoys getting to play with her pawns. She likes how they act like fools while she reaps the benefits. When she doesn't have to pretend, Larkfeather has a sharp tongue and is very sarcastic with a jaded view of the world around her. She holds her feelings close to her heart and has hardened her emotions so that she can't be hurt anymore.
She longs for a partner; though she'd never admit to it. She wants a cat to match her, not one that will merely be her pawn. She desires a tom that will challenge her passed her breaking point and still accept that she isn't exactly a nice cat by any means. Basically, Larkfeather is complicated.
History:
Lark-kit was born in a litter of three, with her brothers Harekit and Thrushkit. As the runt of the litter, both her parents expected little of her. They focused all their attention on her brothers, who were larger and more promising. No matter what Lark-kit did, it never seemed to be enough to make her parents proud of her. They just didn't seem to care, not when her brothers were doing so well. It wasn't until the trio became apprentices that Larkpaw finally began to get the love she so craved. A number of the toms that shared the apprentice den with her were absolutely taken with her, and she realized just how beautiful she was.
She began using her looks to her advantage, getting toms to do her chores for her with nothing more than a look and a brief brush of her fur against theirs. Having toms hanging on her every word and deed was everything she ever wanted from then on. They gave her all the attention and love her parents had never given her. While her parents fawned over all the prey Thrushpaw brought back for the Clan and crowed about Harepaw's fighting prowess, Larkpaw let her fanclub of toms rain down praises upon her in their stead. In reality, Larkpaw wasn't really that great of a fighter or hunter, but her admirers were eager to please her and would praise any little thing she did, making her feel far superior than she was.
She passed her assessments to become a warrior at 13 moons, one moon after her brothers, deciding to put actual effort into them because being left behind by her peers would look bad on her and might cause some of her admirers to lose interest. Maybe. She couldn't take that risk. Her mentor, a no-nonsense old she-cat who she hadn't gotten along with very well, retired only a moon after her warrior ceremony. She was named Larkfeather and was more than happy to be rid of her mentor always watching over her shoulder and criticizing her at every turn (though in reality the old she-cat was only doing her job and pointing out her flaws and how she could fix them, she was just very blunt about it). She has been quite happy the last few moons as a warrior, without having to worry about stupid apprentice duties or reporting to a mentor every day. Being a warrior has freed up a lot more time for her tom friends, after all.
Other:
Bio originally created by Zeneka.