Post by blackbird on Dec 1, 2018 22:07:33 GMT -5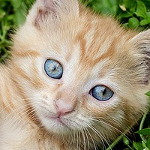 Name:
Aspkit
Age:
3 moons
Gender:
she-cat
Clan:
RainClain
Rank:
Kit
Description:
As a kitten, Aspkit is absolutely tiny. Despite being three months old, she will easily fit into a grown man's hand. She is fairly rotund, well-fed - perhaps a bit too much so. Aspkit waddles more than she walks, on short legs and over-sized paws.
Her ears are far too big for her head, a few shades darker than the rest of her. Most of her fur is a cinnamon shade of orange, streaked through with lines of a lighter, sandy shade. Her eyes are a squinty blue, light like the rest of her. Her tail is long, tipped with a dark brown that matches her ears more than anything.
As she grows, she never will be too large of a cat, only barely tall enough to not be considered a dwarf. Her paws will never be grown into, and will always appear very large on her. She will grow out of her kitten eyes, into eyes that are a startling green in color. No longer will she be so chubby, although she is fairly large-boned and will never be a lithe, fine, or delicate cat.
Description Summary:
A small, short furred, orange tabby she-cat with stark green eyes.
Personality:
Aspkit will be an eternal kitten. She has nearly unending energy - until she doesn't. Her energy comes to her in spurts and will last her quite a while, before suddenly ending in a crash, leaving her to collapse and sleep until the next burst hits her. Despite this being a rather kitten-ish trait, she will never grow out of it - even when she's old, while the bursts of energy may not last quite as long, she will still have them.
Playful doesn't cover it - anything is a potential toy in her eyes. A large clump of dirt, pine needles, a feather - she could have fun with anything, and will. Even if it is another cat's tail, and they don't want it to be a toy. After all, she just has to ask
really nicely
, and they'll say yes! At least, that's what she thinks.
Aspkit enjoys showing off, and making others proud. This kitten craves approval, and praise. She brings 'gifts' - shiny things she finds, pretty things she finds, really anything - to those she considers her friends, her family, or even just someone she wants to impress. And if you aren't sufficiently impressed, or thankful, she will sulk until you have apologized enough.
History:
So far, Aspkit has lived the life of a typical Clan Cat. She was born to a Clan Mother, and a Clan Father, whose relationship was rather rocky. The entirety of her Mother's litter was sickly, and she ended up being the only survivor. Maybe that is why she grows to be such a small cat, as both of her parents are rather large. Her mother is a large, muscular cat, while her father was fairly slim, but tall.
Her Father took only a passing interest in his daughter, and her Mother only did the bare minimum. Once she was weaned, her Mother's interest in her waned further, and she left her to return to her regular work. Her care was given to the other Mothers in the nursery, a sort of shared custody.
RP Example:
--
Other:
--
Were You Referred?
Affiliates on Carried Home