Post by Deleted on Nov 29, 2020 14:22:43 GMT -5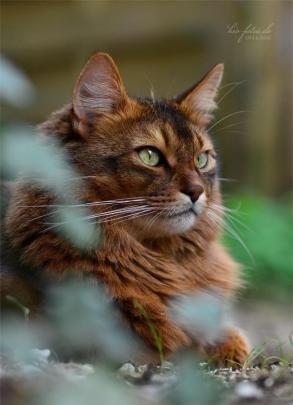 Timberpaw, Timberkit

Age: 30Moons
Gender: Female
Mate: None
Clan: Lightning Clan
Rank: Warrior
Family:
- Mother: Cloudedlight (Deceased)
- Father: Slatewhisper (Deceased)
- Siblings: Cloverblossom (Sister)
Skyrumble (Brother in law)





Breed: Somali

A long furred burnt orange and brown she cat with green eyes and long whiskers. Her lips always seem to be drawn in a frown.

Description: A she cat with a pelt of burning oranges and dark browns, dark marks streak along her back and sides and break up her face, giving her a serious demeanor. She has a soft brown nose tinged with black. White fur smooths out her jaw line and high lights the greens of her eyes. Her whiskers fall long away from her face in soft white lines. Her black lined lips seem to permanently fall into a frown.

Summary: She holds herself with a strength, legs stiff and back straight. She walks with her head high, putting on an air of strength. If others can fall for this and believe this female is confident in herself then perhaps some day she can believe it too. Timberfall walks with a purpose and often the air about her holds intimidation but once one can look past that a softness can be found in her eyes and kindness flows under her words. Her body this thick under her coarse fur and her tail falls back in a graceful arch.


Positive:

Soft Hearted- Though the air about her is intimidating Timberfall has a soft heart. She is always willing to lend a helping paw to those in need or an ear for those who need someone to speak to about their griefs. She will do what she can to make others feel heard and give them the support they need. Though she doesn't look it, Timberfall is one who will sacrifice her own happiness if it means someone else gets to experience joy, this has proven true in her life, just look at her sisters luck. Timberfall will take a step back and let others experience a life that she one day hopes to have. One day she dreams to find love though doesn't hold high expectations for it. Her ideals for a mate don't exactly line up with the culture of her clan, but she is unwilling to bend. She won't force herself into something she doesn't want.

Determined- Once she sets her mind to something, it is very rare to get her to stop focusing on it. She won't rest until a task is complete. She is a hard worker though at times that means she neglects her own well being. Her stomach will growl for nourishment but if she isn't in the right place to take a break, she won't stop. This has often held a negative impact on her health, though she would never admit it.

Duty-Bound- Though in the past her clan and her family have hurt her, she won't shake her allegiance to them. She is bound by blood to continue on as a hard working warrior and a good older sister. She often feels guilty for doing anything that's for herself and not for her clan.


Negative:

Cold- It takes a lot for her to open up for others. She may share a smile but rarely is it an invitation for you to approach. She often clams up when someone tries to speak to her, but with such a serious face she is regarded as cold rather than shy. She has taken this coldness to her advantage and often is on her own to complete her daily tasks and though she is content being alone, her mind is often haunted with the thoughts that some day she won't have a choice but to be alone, especially as she gets older.

Highly Self Critical- She holds herself to a high standard and from her kithood she has developed a persona of being very critical of herself. Often times the thoughts of herself are negative, though she is trying to work on that. She often overthinks or second guesses herself, which leads to one of the reasons she is so shy. What if she did let someone in only to end up letting them down? That idea is utterly terrifying to her.

Fearful- Though she doesn't voice it or let it come out in the way she presents herself, Timberfall is afraid of what the future has to hold. It isn't just the unknown that gets her, it's the idea that life is passing her by and she isn't accomplishing a thing worth while.



"Timberpaw promise your father and I that you will take care of your sister, she's younger, she needs you." -Cloudedlight.

Those words were whispered by her mother on her dying breath as a mysterious illness claimed her life when Timberpaw and Cloverpaw were only 10 moons old and in the midst of their apprenticeships. The two were the only children of Cloudedlight and Slatewhisper, a pair that had come together rather late in their lives, both strong warriors of Lightning Clan who focused more on their work instead of love until fate brought them together. The duo experienced hardships in producing a litter with their age but eventually had their two daughters. Cloudedlight and Slatewhisper were proud of their girls but off the bat it was obvious that one had more strength than the other. Timberpaw was bigger and learned quicker, often she was reminded to help her sister or wait for her to catch up, to say that Cloverpaw was the baby would be an understatement. Minutes separate them but it might as well have been life times. Timberpaw watched as her parents attentions fell to Cloverpaw, but stood aside, reasoning that it was fair in her mind. Caring for Cloverpaw was second nature, especially after their mother passed.

They each took the loss of Cloudedlight in their own way, Cloverblossom openly mourned and Slatewhisper threw himself into work. Timberpaw stood to the side offering support where it was needed while also focusing on her own warrior path. She found her father inspiring and often tagged along on his journey while Cloverpaw stayed behind and cultivated relationships with other cats. Where Timberpaw was cold, Cloverpaw was warm and sweet. The two are vastly different but blood binds them.

During a journey with her father Timberpaw found her mind wondering, her attention had been taken by handsome tom named Skyrumble who had just taken his warrior name. He was sweet and open, always friendly and ready to talk to her, Timberpaw was flattered and though shy, opened herself up to him, thinking of him made her heart flutter and her mind got clouded, like it was when Slatewhisper befell tragedy. They had wandered too close to a badger hole, though as she thinks back on it now, Timberfall wonders if this was an accident after all.

While in her thoughts a striped face badger launched itself from its home, snarling with rage as babies cried out from within in. It came face to face with Slatewhisper. The tom didn't look back at his daughter as he spoke:

"Get out of here, don't witness my fall, care for your sister." His voice was grim with determination. He knew he wouldn't live to see the day his girls would take on their warrior names, but he had faith they would be fine, especially with Timberpaw at the head of the family.

Not one to disobey, Timber turned and ran while her father distracted the badger from chasing after her. Timber heard the screams until she was far enough away that her ears couldn't pick up the sounds of her father dying. For once she walked into her clan with her head bowed and she relayed the information ashamed that she didn't try to fight though many reassured her she had done the right thing, but the shame followed her. In the rest of her apprenticeship she pushed away others and focused on her work on her duties, everything else falling away. She was so consumed in her training that she didn't see the ways her sister and Skyrumble grew together.

At their ceremony Timber became Timberfall in honor of their father's last words to her while her sister became Cloverblossom. Even after becoming a warrior Timberfall continued to work as life passed her by. Unlike most in her clan she was closed off and aloof, too focused on her own progression until an announcement pulled her from her path.

Cloverblossom and Skyrumble were to become mates.

The news shattered her heart. In he back of her mind Timberfall believed that Skyrumble cared for her in the way she cared for him, but this turn of events proved her wrong. Instead of of objecting or voicing her sadness, Timberfall congratulated her sister, glad to see that she had found happiness in a partner, even though she still held a torch for the handsome tom.

While her sister lives on with her mate, a smile on her face, Timberfall continues her path on her own though now an anxiety has set in. What if her destiny is to be alone? To be the support for others that she doesn't receive, a roll she gave herself after becoming so focused on her work and duty and now believes it's too late for her to move on any further.