Post by Fawntastic on Jun 22, 2020 22:25:45 GMT -5
[googlefont=forum]
Name:
Cloudthroat
Age:
55 moons
Gender:
Tom
Clan:
LightningClan
Rank:
Warrior
Picture: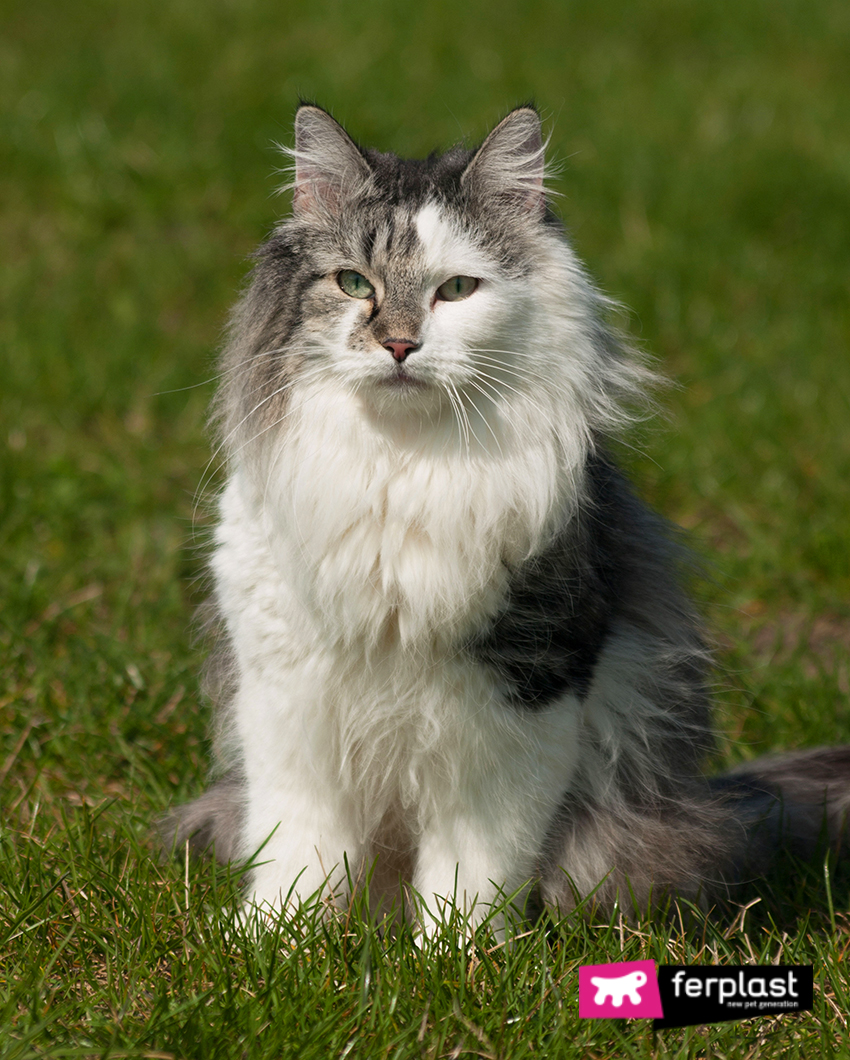 Description:

Cloudthroat lacks the sleek short coat and the tight, aerodynamic body of his Clan's predecessors. A broken dull-grey tabby pattern covers his back like an overcoat, striped sleeves coming to stop just a few inches past the shoulder joints. His tail, thick and brush-like, is a smattering of primarily dark grays with a few streaks of white near the edges.

A long, semi-unkempt mane billows over his neck, his chest, curves between his front legs and blends seamlessly with the fur on his underbelly. His warrior name seems obvious to anyone looking at him. His front and back limbs are thankfully less thickly furred than his chest and torso.

A half-mask of tabby markings splits his face in two, covering the right side from the nose-bridge and partially onto the right whisker-pad, before trailing off to mix with the right side of his mane. Pale green eyes and a pink nose lined in black complete his appearance. He is a striking cat, and the wild, regal visage he presents seems to suit him well.

For all the long, dense fur on Cloudthroat's body, bumping into him should have been a softer affair. Instead of cushion, there is only muscle. This is a cat who has trained hard nearly every moon of his life, and does not allow himself to slack off.
Description Summary:
Longhaired white, green-eyed tom with tabby markings covering half his face.
Personality:
|| Self-Disciplined || Problem-Solver || Honorbound || Insightful || Decisive ||

Cloudthroat is a creature of habit, exhibiting immense self-discipline and control over his more flagrant emotions. Self-discipline, the act of going to war against his demons and finding ways to overcome them, has saved Cloudthroat's life. A near-crippling injury and a strained recovery process sent him to a place of darkness and terror. The timely words of an older warrior gave him the strength necessary to claw his way back to a place of mental stability. Cloudthroat prescribes to self-discipline with an almost religious fervor.

He meditates regularly, choosing a quiet place with little traffic and can spend hours in stillness. Cats are already the masters of lying around or dozing in the sun, but Cloudthroat has turned it into a productive activity instead of a moment of leisure. Cloudthroat keeps his mind, body and claws sharp in all areas that he can, and it's benefited him extremely well over the moons since his accident.

Through the very act of slowing down to observe his surroundings, observe others, and recognize emotions in himself has given Cloudthroat the gift of insightfulness. Recognizing one's own flaws is a hard skill to master, and Cloudthroat is still learning. Always learning. But analyzing his Clanmates has come much easier to him, and he is able to pinpoint things about those around him that may otherwise go missed. Perception is hardly an exact science, but Cloudthroat can pride himself on a fairly thorough understanding of motive, weaknesses and strengths anyone under his careful scrutiny.

A preference for solitude and the slow, peaceful moments of life does not mean Cloudthroat is passive or indecisive. In fact, he is quick-thinking, direct and rarely waffles between choices, able to think rationally and clearly in times of stress. His mettle has been tested and proven strong.

In times of disaster or unrest, Cloudthroat makes himself a rock of clarity and action, not one to idle or waste precious time.
|| Impatient || Rude || Fearful ||

Though he ascribes to a philosophy of self growth and higher learning, Cloudthroat himself is far from perfect. It's easy to watch his behaviors and come to the conclusion that everything he does is deliberate and masterful, but even someone as self-disciplined as he is subject to his own demons. His own sabotaging impulses.

Cloudthroat likes the idea of everyone being capable of improvement, but the difference between believing it and wanting to believe it can be ravines apart. He struggles to look at those that have made mistakes in their lives with unbiased eyes. He tries to swim against the surge of snide thoughts and easy dismissal (after all, he put himself on the proper path, why couldn't they?), but empathy doesn't always come naturally to him.

If he is not careful, his judgment shows unapologetic and cold, even towards cats who could use his guidance and sympathy instead of his barbed commentary. Though largely aloof, it's a good way to lose friends and positive relationships, even if chosen few are given far more leniency in his eyes than the rest.

When angered, truly angered, by the behaviors of others, Cloudthroat's discipline and patience flake apart. His instinct is to burn bridges and leave the ruins for others to clean up. This is a quick way to find oneself alone in a sea of faces and convince himself this is acceptable.

Impossible as it seems, Cloudthroat is fearful. A traumatic event in his past has left him with both physical and mental scars. Though it was the catalyst for his rigorous self-discipline and mastery of the mind, it is also the jagged edge of doubt, the crippling what if it happens again? that constantly tests his mental fortitude.

Though he hates this weakness in himself, there will be moments where his armor cracks, and he is forced to pick up the pieces - or retreat. Incredibly hard on himself (more so than anyone else), the shame of letting fear overrun him has the potential to compromise everything he's worked so hard to achieve.

History:
|| Kithood ||

A childhood touched early by death forced Cloudthroat to throw away his immaturities and juvenile behaviors much faster than his peers. With a sibling who couldn't have been more different, Cloudthroat found himself alone, isolated in a sea of faces who did not fully understand what he was going through.

Even as a kit, Cloudthroat had a streak of seriousness. His littermate Amberkit could eke out a smile and even a spark or two of playfulness, but focus and maturity quickly became defining traits of the newly orphaned Cloudkit. he played with the other kits in the nursery, and he was entertained by tales the elders told, same as any cat new to LightningClan life, but there was a studiousness to it. He didn't just play games, but studied them, working his mind until he could fully grasp the rules of play.

While Amberkit sought fun for fun's sake, Cloudkit sought to understand his ever-expanding world.

|| Apprenticeship || Warriorhood ||

Perhaps ironically, despite Cloudkit's thirst for knowledge and awareness, his apprenticeship and his mentor both were remarkably lackluster. Cloudpaw was given an older crotchety tom called Croweye, whose stiff, almost cantankerous demeanor didn't gel as well with Cloudpaw's calm, rationalizing mien as the higher powers had hoped.

The age gap was too great, and Croweye had very little patience for Cloudpaw's questions and penchant for discussion. So Cloudpaw learned to do as he was told, and to save his inquiries for someone who would actually take them seriously. Instead of a teacher, Cloudpaw was given a babysitter who couldn't wait to retire to the elders den.

Because of this, Cloudpaw became an advocate for self-learning, and while Croweye established a foundation, it was Cloudpaw himself who worked to reach his own tough standards of competence for each aspect of the warrior life. When his ceremony finally came and the clan leader acknowledged Croweye's 'teaching' before Cloudpaw's diligence, he couldn't help a disparaging look at the old tom, who had the nerve to seem proud.

Cloudthroat was made a warrior a full season before his littermate, Amberfur.
|| The Accident || Recovery || Breakthrough ||

They were not close, Cloudthroat and his sister. But they did have one thing in common; a fascination with the mountains. The mountains formed a spine all the way around the valley, seemingly, and the unfamiliar terrain was novel for two cats used to moorland and sedge. There was a ledge of rock that protruded from the mountainside, and neither young warrior could resist the siren call to explore it.

But the mountains were not for the faint of heart.

Cloudthroat and Amberfur pushed their hunting trek further than ever before, Cloudthroat egged on by Amberfur's infectious curiosity. On a precarious stretch of trail, a shadow fell across Cloudthroat as they climbed, and two sensations struck him at once; the feel of talons scouring his back, and the feel of his paws lifting free of the rock.

An over-ambitious eagle had chosen him as it's prey, but gravity and the panicked writhing of the young warrior worked against the eagle's plans. The bloody talons ripped free.

Cloudthroat fell.

Down.

Down.

Down.

Unconscious and broken, the rescue and trek back to LightningClan was punctuated by periods of consciousness. He was dazed, consumed by Amberfur's worried face and more pain than he had ever imagined in his entire life.

It wasn't until he was in Kindleflare's den that Cloudthroat was given the full story: a patrol, concerned by their absence, tracked them to the mountains where they found Amberfur hiding in a small rocky outcropping where she had dragged Cloudthroat's unresponsive form.

It was by StarClan's grace that he did not suffer any head injuries. Kindleflare diagnosed him with a few broken ribs that made breathing painful, and long gashes in his back that were going to take repeated poultices to heal. The sting of claws (though a lot bigger than what he was used to) was a sensation he'd familiarized himself with.

But the fall…

That horrible sensation of weightlessness, of being swallowed up by the sky while somehow falling away from it. The first few nights in the medicine cat's den, he was plagued by nightmares of tumbling into nothingness - where his whole body would jolt awake, and he would cry out in pain and fear both.

For the first time in Cloudthroat's life, he was truly afraid of something.

Like so many of his peers, Cloudthroat had leaped after birds and braved the barked heights of the sparse Open Woods, but he had always landed on his feet. The rush of ground was infinitesimal, a passing moment he thought nothing of. His footing always reliable.

But from the eagle's talons he had plummeted. His paws had reached for the earth as they always did, but the fall was too long. Too far.

He felt himself break. It was that terrifying realization, that he could be broken, crushed into pieces like a stone dropped from on high, that riddled his recovery with nightmares.

Some dreams, he would fall forever. Unending as he screamed, the rushing air forcing him to swallow his own perpetual cry of fear. Others, he would land on sharp rocks, the dreams ending in abrupt blackness that left him shaking in his nest.

Kindleflare and sometimes Amberfur were the only ones to bear witness to this.

The only ones, until happenstance brought Gustclaw into the medicine cat's den - his mouth full of prey for his healer kin - just in time to see Cloudthroat's fitful awakening.

With Kindleflare out collecting herbs, Gustclaw was the only soul present. As he lay trembling in his nest, Cloudthroat burned with shame under the more senior warrior's sharp, analyzing stare. While he struggled to catch his breath, Gustclaw said something he'd never forget.

"You're gonna have to get over it, whatever it is."

Get over it. Just like that. Cloudthroat's reaction was predictable; he'd given Gustclaw a look of such vitriol, such venomous disbelief that it sparked a bigger, more important conversation.

"You can get over it or you can give in to fear. It's your choice."

How could this be his choice? How could he move past this crippling fear, even as he lay in the medicine cat's den, his body still healing? Cloudthroat had grunted in confusion, unable to find the words to even begin that line of questioning. But Gustclaw was unperturbed. Absolute.

"Bad things happen," said the warrior. "You can let it linger, or you can leave it in the past. You build up scars on your body when you get hurt, right? Do the same thing everywhere else."

Though Gustclaw took the prey with him, he left Cloudthroat with something to chew on. Had Cloudthroat not been such a student of self discipline, Gustclaw's message might have gone unheard. However, as the tom lay there mending and the nightmares visited with renewed vigor (as if sensing his burgeoning retaliation), Cloudthroat began to push back.

It was difficult. The dark solitude of the den kept him alone with his thoughts. That silence he'd cherished so much before acted as a sounding board to needle-sharp what-if's. But with every scratch, Cloudthroat let the scar tissue thicken.

He could do this. Discipline meant heeding Kindleflare's medical advice to the letter: so he did. Discipline meant easing back into warrior duties and not letting his determination override his precaution: so he did.

Discipline meant looking at that mountain slope, and understanding that he would climb it again regardless of how everything inside of him protested. Regardless of how his heart shook in his chest at the mere thought.

So he did.
|| Now ||

The shadow of wings still quickens his pulse, and every now and then a nightmare of plummeting through darkness grips onto his mind. But time and practice, wisdom and toil, have gotten Cloudthroat to his present state. He is hard on himself, and maintains a strict regiment that involves meditation, exercise and rest; his focus on personal growth has been so intense that he has little interest in mentoring.

Despite this lack of interest, it's clear from his tidy, competent record as a warrior that he's incredibly capable. That blight upon his past seems to have faded into obscurity, the lengthy fur along his spine covering the scars left over from the eagle's talons.

Cloudthroat has won his battle with fear, but it is a war that persists. A subtle war. A private war, but a war nonetheless.

Cloudthroat has reached a state of monk-like calmness - becoming the mountain he fell from, becoming a deep lake whose surface is seldom disturbed.

Inner peace is something fought for.

So he does.

Other:
Based on the NPC Earthbreaker Groon from Critical Role Campaign 1.