Post by Fae Magic on Jun 8, 2020 17:41:34 GMT -5
Name:
Elderwolf
Age:
53 moons
Gender:
tom
Clan:
NightClan
Rank:
Warrior
Picture: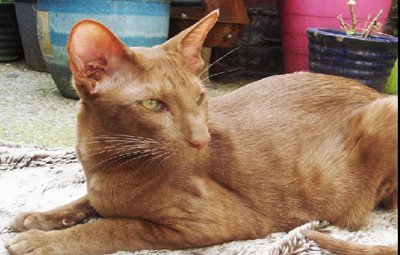 Description:
Lanky but strong Elderwolf is known for being a rather large cat. Not in weight but more in height. Beneath his dusty brown color furred coat hides the strength of many moons of honed and trained muscles. He's known for his lanky and skinny body frame combined with his long spindly legs and narrowed face that is graced with large bat like pointy ears on top of it. His eyes though are what's most captivating on the older warrior. A beautiful shade of amber that looks like they are two burning flames set in his narrow face. He's rather strong and quick on his feet despite his long legs and skinny frame. He's a valuable ally and a reputable foe when it comes to battle because he is not always showing his strength outright.
Description Summary:
A tall, lanky, dust brown colored tom with captivating gold eyes
Personality:
Elderwolf is the oldest of the litter of 3 that his parents; proud members of Nightclan had conceived; born to two of the great and powerful warriors in Nightclan. As such, Elderwolf acts in an aristocratic manner; he seems always serene and apathetic towards other people, even when he is actually deeply conflicted. He is also extremely calm, even in battle, and is very seldom surprised by even the most drastic of actions. However, when he was younger, he was quick to anger and very hotheaded, as noted by his uncle who he was rather close with. Due in part to his status as a well trained warrior, he generally acts indifferent, bordering on arrogance, to most situations that he is faced with as seen from how he rarely views his opponent worth his time. Despite this trait, Elderwolf is a very perceptive tom and is fully aware of the limits of his abilities and usually anything he states in comparison to an opponent is justified.
Elderwolf strongly believes in law and order. As the son of one of the great senior warriors and as a well honed and articulate warrior of Nightclan, he always works hard for a peaceful society. He feels that if someone in his position does not follow the rules as a good example, then no one will follow them. He believes that to maintain the order, all law-breakers must be punished, even if that goes against his own wishes. In spite of his icy and regal manner, Elderwolf cares for and protects those important to him; that being his siblings Howlingstorm and Coyotefang. Of course cannot forget his daughter Leafshadow and son Condorwing.
History:
Kit- Darkshadow and Blackstone bore a litter of kits three toms they named Elderkit, Howlingkit, and Coyotekit. The three kits were born into a highly respected family and those who looked at the three toms knew that the litter would be a success. That was until they grew older. They couldn't have been any more different from the other than the sun, moon, and eclipse were from each other. Elderkit was the sun in this metophore. Growing up loud, hot headed, and rash. Howlingkit was the moon, cold and distant; not really friendly and didn't like people, he was the reason fights started all the time. And then of course there was Coyotekit who was bold and loud; trying to outdo his brothers. Elderkit was older only by a few minutes but he was only one who seemed to have a noticeable sign of potential in him. To better understand the male his real story started during his apprentice age when he met someone that changed his life.
Apprentice- Her name was Hollowpaw. She was this 8 moon old apprentice that was the first to greet the brothers when they came into their new ranks. She herself was the oldest of all the apprentices at that time and known as the big sister. Every tom had some form of crush on her and all the she-cats got jealous from the attention she got. She was their senior. Elderpaw had grown up rather quickly once he met her; wanting to do nothing more than to impress her. He got put under his uncle's care as his apprentice, and although his uncle was admirable as a tom he was rather calculating and articulate as a mentor and warrior. Elderpaw never missed a day of training and always came back with some sort of injury because his uncle didn't take it easy on him. Which of course the dusty tom didn't mind; he was trying to grow stronger after all.
Warrior- When he became a warrior at last, during the time he was an apprentice he and Hollowpaw they had a crush on each other and as soon as they could become warrior they had became mates. To the hateful and angry glare of his brothers and other warriors that apprenticed with them who had a thing for Hollowspring; he ended up being the winner of her heart. He was only 25 moons old whenever he and Hollowspring finally bore kits together. He was so excited to be a parent. His own parents on the other hand were not when they came to see their grandchildren. Blackstone was furious when he saw the litter; they were small and weak looking, he outright became outraged that a strong and powerful couple like his son and Hollowspring created such weak looking kits. Old fashioned was a good way to call his father. But it was Hollowspring that grew angry at Blackstone for insulting her children that started it all.
Elderwolf was the one who ended up fighting against his own parents; with the refusal of letting his recovering mate go up against a full fledged strength senior warrior like his father. A stupid fight just because his parents did not like his children was most certainly not how he'd imagined all of this ending up. He did not understand their hatred. Still young and not as experienced as his father Blackstone got the upper hand against his son; the fight was over when Hollowspring jumped in to stop them by trying to separate the two; blinded by rage Blackstone did not realize who he was turning on until his teeth and claws sank into her. The fight resulted in Hollowspring being injured pretty bad because she was still recovering from having her children. She died a few days later from infection. Elderwolf was furious at his parents that he lost control, lost the carefully honed control that his uncle taught him and killed his father before a real decision for punishment could be issued against him. His mother fled from the clan in fear of her life and her son's anger. Howlingstorm and Coyotefang heard of what happened; having not been present when the fight had happened. They too were angry at their parents and came to realize their jealousy of their eldest brother was stupid. Family meant more than just a power status and strength and skill. Coyotefang had a mate who was pregnant with their first litter so she agree to nurse Elderwolf's kits that he'd named Leafkit and Condorkit as Elderwolf was carrying out his punishment. Due to his actions, their newest leader Foxstar decided the loss of his mate was punishment enough for the young warrior but a public example still had to be made as it was witnessed by several of the warriors in camp. As punishment, Elderwolf got demoted to an apprentice all but his name. He was forced to move his nest into the apprentice den to sleep with the other apprentice, he was forced to do apprentice duties like fetching prey for the elders and kits and take care of the grooming for the elders.. On top of that he was confined to the camp unless doing his apprentice duties and had two senior warriors to escort and guard him just in case he lost control again. This went on for 2 seasons. Ironically, yet another blow to his ego was the fact that the dusty brown tom had to do all this around the time his own children became apprentices. After his sentence was over he returned to his warrior duties. Refusing to speak about it; he became cold and distant and unresponsive to most people. No matter the whispers or remarks he turned a blind eye unless it involved his family. He never found love again and shied away from prospect of happiness; solely deciding to focus his attention on his duty and the life of his children over his own happiness.