Post by Fae Magic on Mar 21, 2020 15:17:11 GMT -5
Name:
Tigerpaw
Tigerblaze
Age:
28 moons
Gender:
Tom
Clan:
StoneClan
Gorgeclan
Rank:
Apprentice
Warrior
Picture: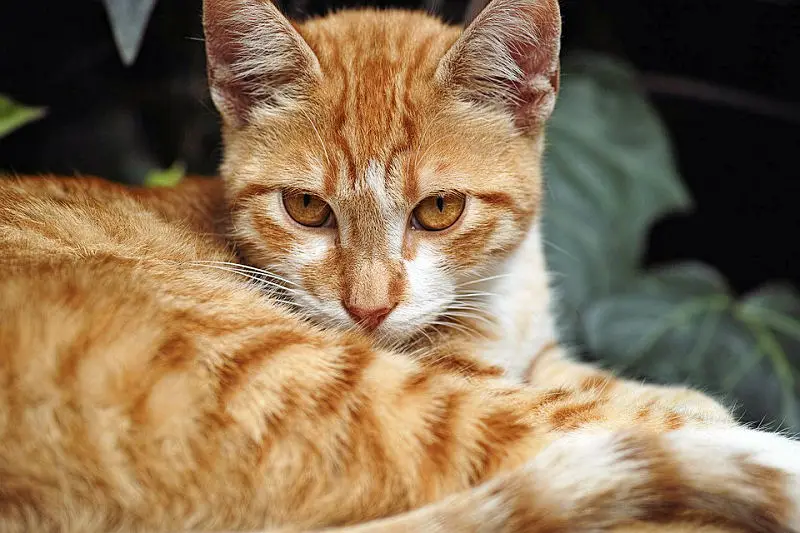 Description:
Tigerblaze gets his name for many qualities that he possesses for the most obvious. Despite his age, he is rather on the slender and sleeker size of the physical build spectrum. Despite his slender form, he is quick on his feet and very agile which Gorgeclan cats are well known for due to their environment that allows them to be great climbers. His body is covered in mostly short ginger fur with the exception of the top half of his body from his belly and chest that is colored in a light ginger and white blended coloring slashed with darker ginger tabby striping along the rest of him. His eyes are one of the most striking features he is known for; a beautiful dark amber coloring much like a tiger's that shine with intelligence, fire, and a keen sense of alertness.
Description Summary:
A ginger and white tabby tom with dark amber eyes
Personality:
Being a small-sized warrior for his age and having a big name like Tigerblaze you would expect great things out of a tom like him wouldn't you? Tigers are after all prideful and regal creatures of predatory prowess and known for being extremely skillful and cunning. Tigerblaze on the other hand is something else entirely. Of course, the young warrior is a dedicated young tom who wants to do his best for his clan and for himself just like many of his clanmates but he lacks the grace and hunting prowess that his name sake means. He's a bit of a clumsy fellow and is rather easily embarrassed by his little mishaps.; although he prefers to make a joke out of them to hide his embarrassments and lessen the impact. He's actually quiet a sweetheart who is an eager learner but more of a dreamer then he is a fighter; which he was working on as an apprentice but still hadn't fully got trained out of. He has high respect for everyone unless he's proven they don't deserve the respect that he is so willing to give. He doesn't say things he doesn't mean because frankly he has no filter on his thoughts or mouth; not to mention he doesn't see the point in sugar coating things or trying to make others feel a certain way when he knows everyone is entitled to their own opinions as long as they are being respectful when giving it. He's prone to having a lot of hero worshiping going on for the higher warriors of his clan; something he had as a apprentice and still does as a warrior but mostly he looks up to his former mentor Whitehawk and his leader Birdstar who he saw as a father figure as his own was not around anymore. Tigerblaze was once a bit of a gullible tom who needed attention all the time; getting pouty and even holds grudges when he's ignored or not included as he wants to be friends with everyone and doesn't always realize that his presence isn't always going to be accepted by some even of his own clan. But he's grown up a lot despite his young warrior's age and has a more calmer way of approaching thing, has a better sense of his surroundings, as well as a bit more thoughtful when it comes to other's time as he knows how precious time really is now after the earthquake destroyed the clans' homes. He's learned to become a very hard worker and someone who is honor bound and believes no one gains experience, respect, or knowledge unless they work hard for it; even those young who have not lived long can gain this form of respect as time doesn't always mean experience which is why he tries to respect not only the elders, senior warriors, and high ranked officials but the apprentices, young warriors, and even the kits as he believes every rank and age has something to teach and learn from each other.
History:
Tigerblaze grew up in a family solely of toms. His mother who he never knew passed away before he had the memory to remember her. He had been nursed along with his two brothers by another queen in the nursery and they all grew up knowing that she was not their true mother. She looked nothing like them for one and kits always know the scent of their mother. His father was a single tom for as long as Tigerblaze knew him in his short life as he never got another mate to replace their mother but he had taken on the role to try and play the father and mother role to his three boys. Tigerblaze looked up to his father and made him his first role model growing up as he had been working hard not only in his warrior duties but also having to take care of three tom kits alone by himself. When Tigerblaze had finally become an apprentice he wanted nothing more then to make his father and brother proud and to repay his father for all that he had done. It was saddening to see though that his father had passed away a few days after his sons took on the apprentice names; having been fighting a inner sickness for so long; besides a broken heart, from his three boys. He finally passed away unexpectedly in his sleep after seeing his boys grow up to be apprentices. Tigerblaze who was the youngest of the three born took it the hardest as he was also the one who had the kindest and most open heart. He took his father's death on his shoulders and threw himself into training with his mentor Whitehawk; making sure to be eager to learn and be a hard worker during his training days, he never didn't the chance to get into too much trouble like most apprentice would have to test boundaries as he was trying to follow in his father's footsteps. He still bears the heartache even moons after having his father pass away but pretends that he's okay and tries to keep a smile on his face as much as possible. He has his brothers and that's it and he didn't want to lose them too so he stayed happy and tried to distract them from their loss. Tigerblaze's efforts ended up subconsciously pushing himself away from his brothers making their close bond shatter little by little. As they trained as apprentices his brothers initially shoved Tigerblaze away because of their brother's efforts to be more than he was capable. Their relationship didn't get better as time wore on and they became warriors; nothing more than familiar strangers at this point Tigerblaze held a small sign of hope that he would be able to rebuild his family. As he doesn't have a mate or kits yet of his own yet he still holds Whitehawk close as a fatherly figure and considers him family but at the same time trying to put his former mentor's knowledge to good use and try to rebuild his relationship with his brothers. When the earthquake happened he thought he'd nearly lost them but found they were alright. That being said, Tigerblaze is trying to gather his wits and hope that Starclan will lead his paws in the right path as he is struggling to find where he is meant to be.