Post by Jos on Dec 8, 2019 16:30:44 GMT -5
Name:
Squirrelkit--Squirrelpaw--Squirreltail
Age:
5 going on 6 moons
Gender:
tom
Clan:
Stoneclan
Rank:
Kit
Picture: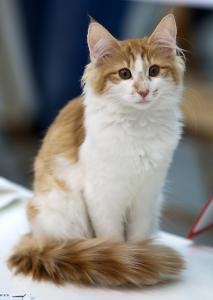 Description:
Squirrelkit is a bi-colored, white and orange tabby tom with gray eyes. The white fur covers his underbelly, legs, jaw, and part of his face. The orange-tabby pattern runs from around his eyebrows, down his back, and completely covers his bushy tail. He is a small, lithe cat and it looks like he will continue to be that way into adulthood. When he was born it was clear to his parents that the biggest part of his body was not the head or the paws, like some kits, but his big bushy tail. He was named Squirrelkit in honor of his tail, which looked and moved a lot like a squirrel tail.
Description Summary:
Lithe, medium furred white and orange tom with gray eyes.
Personality:
Squirrelkit's personality shone through almost immediately. The main thing any cat has to say about him is how enthusiastic and optimistic he was. When playing with the other kits, he would be the cat always trying to find a peaceful solution to the 'conflict'. Of course, when that didn't work, he would join in the tussle with as much gusto as any of the other kittens, but he would always try his best to find diplomacy. Nothing ever seemed to get Squirrelkit down—bad weather? No such thing! Just an opportunity to do things differently, maybe clean out the den or listen to the elders, or just relax and listen to the rain outside! Illness or injury? Just an opportunity to visit the medicine cats.
Now, Squirrelkit is not immune to sadness or stress, not by a long shot. He is a bottler. He bottles things up, deep down inside, until one day his bottle is overflowing, he just lets it all out. Usually he takes his frustrations out on unsuspecting sticks, although sometimes his bad mood rears its ugly head at his kin—those closest to him.
So, is he optimistic? Yes. But it is 60% genuine optimism, 40% a very unhealthy coping mechanism for stress and strain. He doesn't want to be a burden on his clan by having negative emotions.
History:


Squirrelkit was born to a large family. He never really saw much of his father Rowanstripe, and he saw entirely too much of his mother Mistcloud. Mistcloud was the epitome of over-protective, and Squirrelkit reciprocated that protectiveness (hence, the hiding of negative emtotions). He would do anything to make sure his anxious mother was calm and assured that everything was alright, and so the little kit spent a lot of time walking on eggshells. He considered himself lucky, however, because where Squirrelkit felt a tad bit smothered, Slatekit was all but buried alive in Mistcloud's 'love and affection'. He felt bad for his denmate, and a little jealous at times because it seemed that Mistcloud paid more attention to Slatekit than him, but that wasn't Slatekit's fault. Maybe it was Squirrelkits? And so Squirrelkit spent much of his older kit-years, up until he was an apprentice, vying for his mother's attention.
Other:
SIBLINGS RELATIONSHIPS: Aside from Flintkit, who he never got along with (due to Flintkit being a jerk), I imagine he has a pretty good relationship with Frostkit and Slatekit