Post by ▲ Fabrication on Jul 7, 2019 10:30:56 GMT -5


Flash
Loner


General Information

Name »
Flash.
- Former name(s):
None.
Gender Identity »
Cisgender.
- Pronouns:
He/him.
Sexuality »
Asexual heteroromantic.
Age »
Twenty-one moons.
- Birth date:
Leaf-fall fifteen, year five.
Allegiance »
Loner.
- Previous Allegiance:
None.
Beliefs »
Atheist.
Rank »
None.
- Previous Rank(s):
None.
Appearance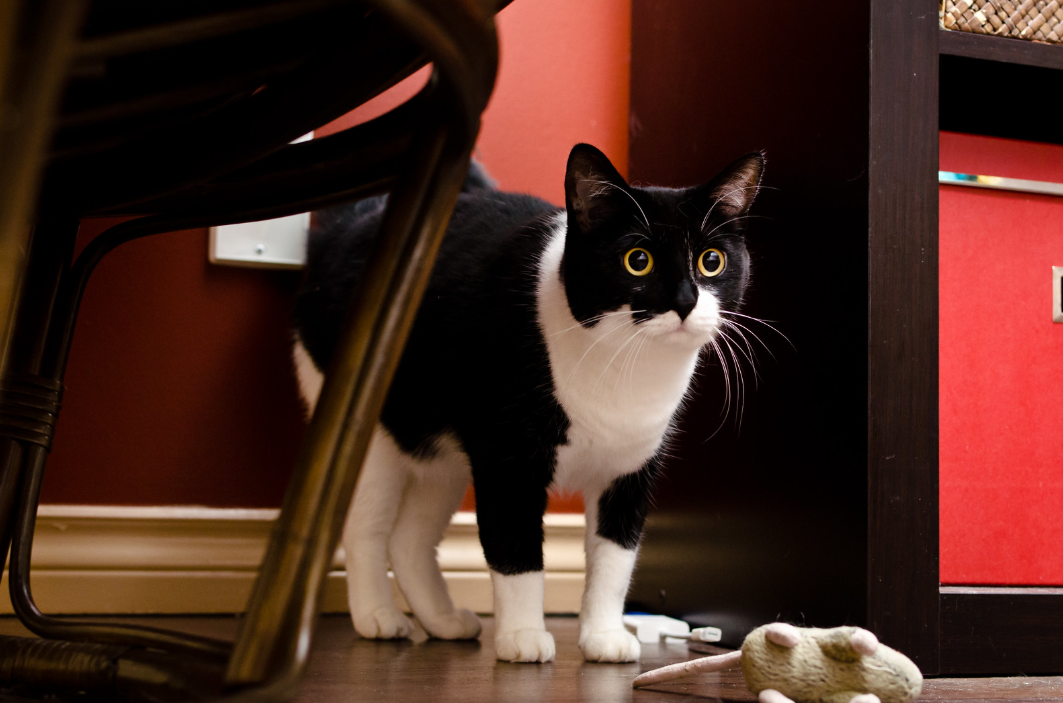 Flash's two front paws lead from a raven black to small white socks. He is built for speed, and he could outrun most spry young LightningClan apprentices. Through a lifetime of racing his brother through fields for amusement, Flash has built up an impressive stamina. He has a long, thick tail that is perfect for balancing as he runs. His tufted tail is as dark as the majority of his coat, ending with a pure white tip. His dark face highlight the abrupt yellow of his round eyes. They seem almost owl-like in appearance, and stand out against his murky, handsome features. Flash naturally has a slight build, with strong back legs that unlike the rest of him, are painted entirely white. His legs are somewhat stubby and thick, giving him both the impression of weakness and of strength all at once. Flash is entirely indistinguishable from his brother, the two appear almost as the mirror image of the other. Flash's muzzle is split evenly into black and white sections, but one part tapering off in a straight line from his nose up past his eyes. He has small, pointed black ears, which always swivel towards the most interesting thing in the vicinity. He has lengthy, downy white whiskers that trail from his muzzle downwards, twitching with every smile and laugh.
Summary »
A black and white tom with round, yellow eyes.
Eye colour »
Yellow.
Pelt colour »
Black and white.
Pelt markings »
Tuxedo.
Build »
Lean, light and long.
Scars »
None.
Disabilities »
None.
Personality
Flash is very obvious about his thoughts and feelings. Even when he tries to, he is terrible at keeping his intentions hidden. It is very easy to tell exactly how he feels about other cats and exactly where he stands in any given situation. His expressions are very animated, every emotion he feels is immediately clear on his face. Nothing he feels is buried deep inside, and is always displayed with the full blast of raw and genuine emotion. He is unpatriotic, and will continue to feel this way even after he eventually becomes a clan cat. Having been born and raised as a loner, he doesn't understand the pride that clan cats take in their clan, and the deep connection they feel to it. He views the clans as families, not as specific and separate groups. He doesn't understand why any cat would be proud of where they are born or where they come from, as it is not really an achievement of that particular cat. It all seems rather silly to him, the way the clans squabble and fight. He believes that if they just learned to work together, then all cats would benefit equally. He sees all other cats as important, even those outside of his own clan. He wouldn't hesitate to help others with whatever it was they needed, even an "enemy". He mentally keeps himself separate from the silly clan-specific conflicts.
Flash is reactionary, preferring to take action in the moment rather than think and plan ahead. He responds to his environment and lets the actions and words of others influence his own paws. He does things in response to other things, and it is rarely any different. He can be very stubborn, and sticks by his words and opinions no matter what. It is very hard to get this tom to budge on anything. He has firm, rigid opinions and is not open to changing them. Flash is very weak-willed in that he finds it very hard to resist the influence of his own impulses. He is not religious, and believes in neither a higher power nor an afterlife. Ashpaw has mentioned StarClan to him, but Flash doesn't really believe in them. He thinks that religion and spirituality is mostly a comforting story or legend that cats tell eachother to chase away the fear of death. When he looks up to the stars, he just sees the dark and empty black of the night sky, not the twinkling spirits of lost cats. Flash has a very fanciful view of the world. He sees warriors as noble heroes, and his entire perception of the clans is very fantastical. He likens himself to a noble knight, and his dreams of grandeur and heroism may one day get him into trouble. He sees the world in a dreamy haze, and despite his lack of belief in magic his belief in pure-hearted warrior cats is strong.
Flash is optimistic, loving to look on the bright side. He never gives up, and always pushes himself to believe that the best outcome is possible out of everything. No matter what the odds, Flash will never give up. He is an amusing and fun-loving cat. He loves to put smiles on other's faces and he goes out of his way to make others laugh. He can be disobedient, slow to follow orders if at all. He likes to be his own cat and have his own autonomy, and trusts his own gut above all others. Though he has a more playful, laid back attitude, Flash is very proud, which can be a great boost to his confidence. He likes to be the best, and sees nearly everything in life as a game or a competition. He is determined and loyal, and finds it very hard to give up. He sticks by his friends and family no matter what, and considers any small betrayal a serious breach of trust. Flash is very excitable, and his energy is seemingly boundless. He never slows down and inaction or boredom drives him crazy. He is a very amiable tom, he loves to be friendly towards other cats and build new relationships. His playful and easily distracted nature give him an immature, kit-like quality that many cats find endearing.
Positive traits »
Optimistic, loyal, amiable, excitable, playful.
Neutral traits »
Determined, amusing, not religious, stubborn, proud, unpatriotic.
Negative traits »
Obvious, reactionary, weak-willed, fanciful, easily distracted, disobedient.
Family
Family tree »
None.
Mother »
Wander / Bio
Brother »
Tumble /
Bio
Adoptive brother »
Ashpaw /
Bio
Relationships
Mentor »
None.
Apprentice »
None.
Mate »
None.
Romantic partner »
None.
Crush »
None.
History
Flash is Tumble's twin brother. The two have been inseparable since birth, all the way up to adulthood. Flash and Tumble were both born to a loner she-cat named Wander, whose name suited every bit of her personality. The tom that fathered them was never present, and Wander never told them his name or what he looked like. Flash was named after his personality, just like his mother Wander was. He was always the first to everything, first born, first to start walking and talking, first to catch prey and first to wake every morning. His speedy and impatient nature suited his name very much, and Flash has always had a bit of an ego boost because of it. He is a bit leaner than his twin brother, and is notably fast. He runs so fast that his paws seem to scarcely skim the ground. He lived a mostly peaceful, uneventful life with his mother and brother, until one day he and his mother spotted a fox. At first they thought it was dragging a rabbit, but when they moved closer, they saw that it was actually a small, silver cat. The three loners worked as a family to save the tom from the ginger animal, and drove it off. The three toms have now begun making their way back to the valley, where Ashpaw is taking both of them to join StoneClan. Flash was very reluctant to leave his mother, but Wander insisted that they needed to build their own lives and find their own paths. Though Ashpaw is younger than Flash, he has a lot of admiration for him and looks up to him a bit.