Post by Ginger on Mar 17, 2019 18:10:42 GMT -5
Name:
Thistlepaw || Thistletongue
Age:
6 moons
Gender:
she-cat
Clan:
Lightningclan
Rank:
Apprentice
Picture: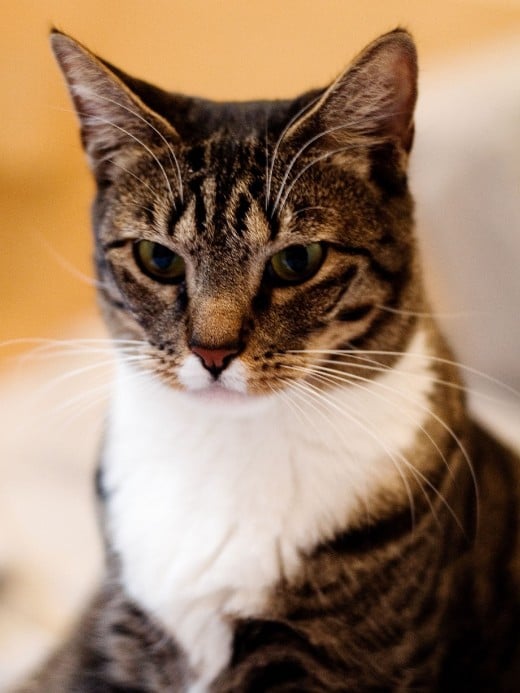 Description:
Thistlepaw is rather small for her age, but her piercing gaze from her yellow-green eyes makes up for her petite build, often coming across as intimidating. She has a very sleek coat that occasionally seems to shimmer as it catches the light. On her back right paw, Thistlepaw has a bright white mitten, one of her most defining features. Most of her coat is a warm, almost red, brown that helps her to blend into her surroundings. Her underbelly is a dull white, and this white stretches all the way to her tail. Due to her petite build, Thistlepaw's whiskers and ears seem extremely long. Her claws are also longer than normal, and she can never fully retract them.
Description Summary:
A petite, medium-furred, tabby cat with striking yellow-green eyes.
Personality:
+ Witty
+ Loyal
+ Loving
+/- Honest
- Calculating
- Uncompromising
The first word that comes to mind when speaking of Thistlepaw is sharp. She is incredibly witty and outspoken, sometimes to her own disadvantage.Thistlepaw values honesty above all traits, and it is hard for her to speak anything but the truth. While she loves to make her sly remarks, Thistlepaw is completely unable to tell lies and will do anything she can to avoid a situation in which she would need to lie.
Thistlepaw can also be described as uncompromising. She has a strong set of morals pertaining to honesty and loyalty. When others violate the moral code that Thistlepaw has set for herself, she finds it very difficult to understand their reasoning and becomes quick to judge. Therefore, as an outsider looking in, Thistlepaw would seem to be somewhat cold and calculating. However, it is her immense passion for doing the right thing that hinders how others see her. When she is not caught in a situation of moral right and wrong, Thistlepaw loves to make wisecracks and mess around with her fellow clan-members. She loves her clan fiercely and loyally, and would do anything for her clan-mates (even those whom she is not particularly fond of).
History:
Thistlepaw was always sharp, even from birth. She came much too soon, catching her mother, Bramblethorn, by surprise while she was was walking a somewhat long distance from camp. The unexpected nature of her birth plus the bush that she was born in led to her being named Thistlekit. Coming back to camp, there was not a good chance that Thistlekit would survive, but somehow she persevered. All throughout her early life, her mother was skeptical of her survival. Yet despite her size and apparent weakness, she pushed through. While she herself did not grow very much, Thistlekit's wit began to develop much earlier than the rest of the kits around her. However, she knew that her smarts were never enough; therefore, Thistlekit began to devise mini competitions for her and her friends in order to prove herself. She never won these competitions because she poorly planned for them, but through these competitions, Thistlekit developed her own personal strengths incorporating her small size and long claws that she hopes will only continue to develop.
Other:
Thistlepaw often struggles with her claws, but hopefully they will turn out to be an advantage to her, or else she will have to try and do something about them.