Post by Jet on Mar 13, 2019 2:10:26 GMT -5
Name:
Tealwing
Age:
39 moons
Gender:
She-cat
Clan:
RainClan
Rank:
Warrior
Picture: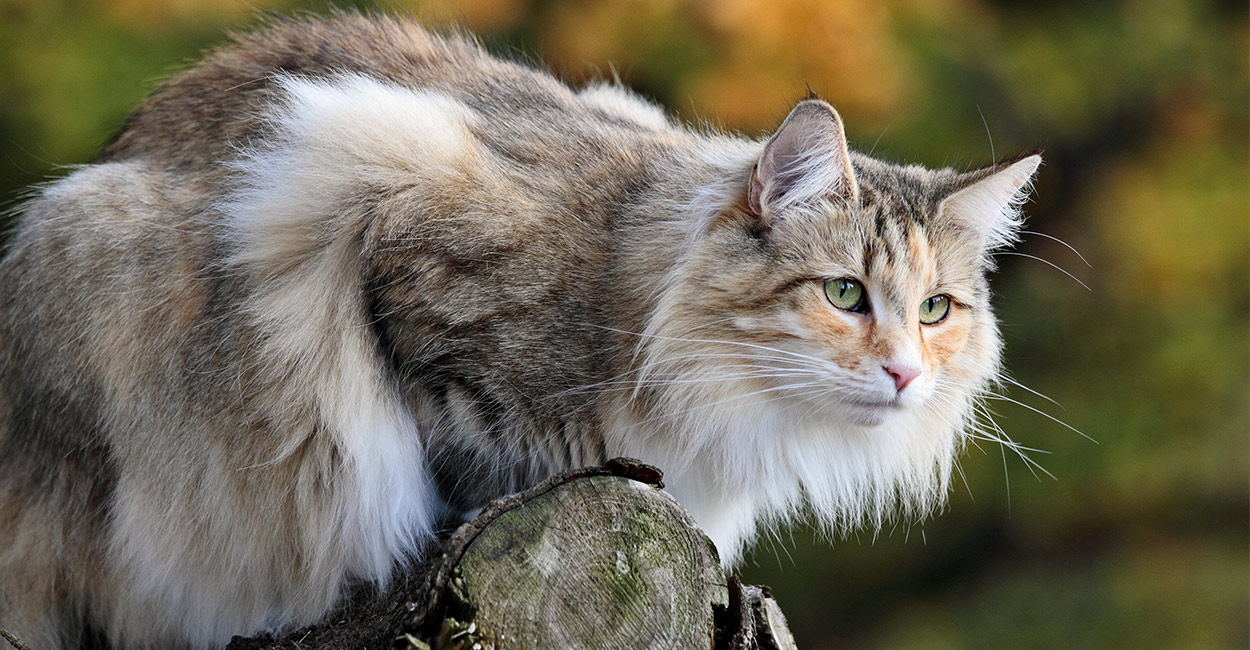 Description:

Tealwing is an average sized, long furred, dilute calico tabby she-cat with gentle, light green eyes. Her stature is quite common, nothing notably different about her other than her light, multi-colored pelt. Tealwing's fur is littered with white, brown, grey, ginger, and tan patches and stripes, her soft and delicate form making for a pleasantly variable and feminine appearance. Although fluffier, she still boasts a very refined, slender face accented with a dainty, pink nose and faint, light green eyes. Tealwing's posture is most often defensive and protected, her tail most often seen sweeping the ground or tucked close to her body. She emits an amiable and welcoming aura to everyone around her, always listening to her clanmates, yearning to provide them with their heart's desires. Her presence is often calming to those around her, though her gaits are guarded, as well as her soul.
Description Summary:
An average sized, long furred, dilute calico tabby she-cat with gentle, light green eyes.
Personality:
+) Affectionate (readily feeling or showing fondness or tenderness)
+) Determined (processing or displaying resolve)
+) Cooperative (willing to be of assistance)
+) Reassuring (serving or intended to remove someone's doubts or fears)
+) Pacific (peaceful in character or intent)
n) Liberal (open to new behavior or opinions)
n) Lenient (permissive, merciful, or tolerant)
n) Circumspect (wary and unwilling to take risks)
n) Diffident (modest or shy because of a lack of self-confidence)
n) Meek (quiet, gentle, and easily imposed on)
-) Tentative (not certain or fixed; provisional)
-) Listless (lacking energy or enthusiasm)
-) Dependent (relying on someone for support)
-) Frivolous (carefree and not serious)
-) Forgetful (apt or likely not to remember)
Tealwing has always emanated fondness to those around her, spreading love to all those willing to receive it. Although her heart often gravitates towards the nursery, her conscientiousness and adoration drives her into promising, long-term friendships. Her approaches are always tender and calm, though oftentimes her lenient and merciful nature is exploited. Tealwing is an incredibly passive she-cat who oftentimes chooses the path of least resistance, though many times the clan has proven that the easy way isn't always the right way.
She is a very tranquil type, always yearning for the world to be resting at equilibrium, though her desires are often not pressed. She is quite determined mentally regarding her own personal goals, though she is hardly the manipulative or forceful kind of personality. She has never desired to control anyone but herself, though her submissive tendencies leave her vulnerable to users. She can easily be taken advantage of due to most aspects of her nature, though this hardly bothers her. Tealwing is a gentle, sensitive cat for the most part, helpful and supportive towards her clanmates, and her willingness to uphold the warrior code and protect her clanmates prevails above her default setting of idle.
Tealwing isn't a very active cat. She finds delight in the simplest of pleasures, naps and sunbathing being at the top of her list. She prefers to spend most of her time at rest, only ever really finding joy in activity when sharing it with pleasing company (most often that company being queens, kits, or a cute tom). Tealwing isn't afraid of work, and definitely pulls her own in supplying the clan with fresh-kill, though she has hardly exercised her battle skills since receiving her warrior name twenty one moons ago. Her fighting skills are practically non-existent, and her teaching skills just as obsolete: her first apprentice was her last apprentice for a number of reasons.
Tealwing often doesn't take things as seriously as she should, though it is more rooted in innocent absentmindedness than ignorance. She is very good at focusing when she is committed, though it is always a struggle for her to maintain focus in the things she just doesn't like. Her frivolousness isn't always a bad thing, though paired with forgetfulness makes for a dangerous combination. Thankfully, she is a relatively unadventurous she-cat, finding comfort in the confines of RainClan territory and a simple life. Tealwing isn't one to take risks, and finds great stress when forced to take chances and/or adapt.
History:
Tealkit was born an only kit into a loving family. Her childhood wasn't very eventful, her lust for attention being satisfied at every turn, and her law-abiding personality keeping her in line and far away from trouble. She was definitely a golden child, a loving, sweet kit towards everyone despite their attitude towards her. The Civil War in RainClan didn't seem to bother her, and around the time she received her apprentice name, Tealpaw was actually quite excited to see the clan nearly double in size. Though, she couldn't quite understand why everyone was so short-tempered and hostile towards one another.
Tealpaw, although seemingly innocent, wasn't ignorant of RainClan's hardships. She spent her apprentice days taking matters into her own paws, trying to pull apprentices from both walks of life on the same path. Whether she helped or not was hardly her concern, though she definitely made many friends and acquaintances along the way. She would never even consider mischievousness or troublesome things during her youth, though her lack of adventure and distaste for change left her with a bland apprenticeship.
When she recieved her warrior name at 18 moons, perhaps a little late for the average RainClanner, Tealwing found great joy in visiting the nursery. Her free time was often spent tending to the queens and kits, playing games, changing their bedding, bringing them prey...etc. The she-cat's heart yearned for kits of her own, though when she finally established a fine relationship, her mate ended up succumbing to sickness in the tail-end of leafbare, a month before the kits were born. Grief manifested, though only temporarily. Tealwing swore she could love their kits with all her heart.
Unfortunately, she miscarried all three of her kits.
The miscarriage left her with a horrible fever and it was believed that she would not survive, though Tealwing pulled through. She never was quite the same after the incident. She grew more in touch with the real world and began appreciating more of the simple things life had to offer, hardly taking things for granted. She still spent most of her time with the queens and kits, hoping one day to have a healthy litter of her own and a mate to share that happiness with, though fears of her past leave her more closed off nowadays than usual. She still finds joy in the queens and kits that pass through the nursery, not as hellbent on bringing lives into the world as she once was.
Tealwing is constantly finding peace and felicity by providing for those who need her help.
______________________________________________________________________________
39 moons:
...
...
...
...
______________________________________________________________________________
42 moons:
...
...
...
...
______________________________________________________________________________
45 moons:
...
...
...
...
_____________________________________________________________________________
48 moons:
...
...
...
...
______________________________________________________________________________
RP Example:
PUT QUOTE HERE
Tealwing
RAINCLAN - WARRIOR - 39 MOONS
Word Count: xxx
Tags: xxx
Notes: xxx
Other:
xxx