Post by Smokefur the Fluffydorable on Jan 21, 2016 11:22:01 GMT -5
Name:
Nightkit
Age:
3 moons
Gender:
she-cat
Clan:
Treeclan
Rank:
kit
Picture: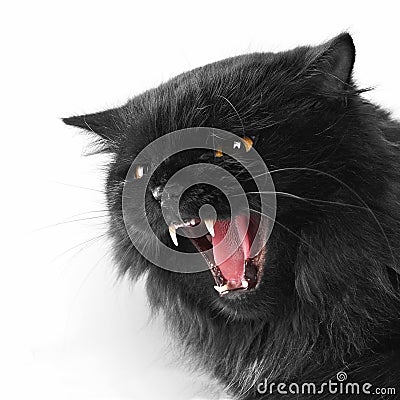 Description:
Nightkit is an all black she-cat with amber eyes. She is slightly below average when it comes to size but her fluffy coat more than makes up for it masking her small size. Nightkit has fastidious grooming habits and giving herself a clean and proper look most of the time. She possesses slightly long legs making her a quick runner and quite agile. Coupling this with her slight frame she is quiet as the night when she moves. At night her agile movements and dark pelt make her nearly invisible. Generally she has a dark mysterious attitude that ties all of her traits together making her name fit her perfectly.
Description Summary:
Slight framed she-cat with all black fur bolstering her size, possessing amber eyes and being a good embodiment of her namesake.
Personality:
Nightkits' personality can best be described as dark, as she has a particular interest in the macab. She is fascinated by the night and the stars and finds the night time infinitely more interesting, and her love of stars has made her feel a strong connection to her ancestors. She is interested in the past and the long lost stories of her clan and is a particular fan of the elders den because of this fact. As she grows up she will take an extreme interest in her own story, she will view herself as a form of myth. Living up to her own story will be one of her large focuses and it will lead to her making more interesting decisions, focusing on the road less traveled. This will get worse until she finally matures and it will fade considerably once her more childish aspects are replaced in adulthood. Her dark attitude hasn't made her unkind however, she tends to be gentle when she can be and refuses to be hostile towards those she deems innocent.
History:
Nightkit was born the daughter of Gingerleaf and Flarestrike, and it was nothing less than an average kitting everyone saw coming. Nightkit has three brothers and one sister, Emberpaw, Graypaw, Flamepaw and Stormit. Only one, Stormkit, was from the same litter and she was more than used to having the run of the nursery to herself. She took advantage of this opportunity plenty, and loved nothing more than to play terrorize her brother. She had the makings of a kit that dreamed of being a great warrior, even though it was never her dream. she just wanted to play with Stormkit. She wouldn't know the life of a warrior however, as sadly her time in the nursery would be cut short.
RP Example:
mmm nah.
Other:
Stormkit is fabulous.
Were You Referred?
By Ravenstar many moons ago.